Jack Lim, the owner has been in the industry since the mid '90s. He came from the metal cnc industry but he started to work for other woodworking cnc router manufacturers as an inside support technician, cnc applications, technical support specialist both inside and in the field, and build his career to VP of Sales helping companies grew to multi-million dollars organizations.
He is familiar with the majority of cnc brands in the market and realized that the customers needed more than just cncs, especially smaller organizations looking for affordable and reliable automation. With years of experience as a cnc technician, he knew he could offer what the market needed. In August 2008 he left his VP position at another cnc manufacturer and started LIMTECH Industries, Inc. Needless to say this was one month before the Great Recession. While many other established companies in the industry were shutting their doors for good, Jack didn't give up because he was passionate with the ideas behind the products that he had to offer and believed customers will appreciate having better choices once the economy got back on track. He was right on.
Jack had researched and found a quality cnc manufacturer in Taiwan. The manufacturer agreed to build new cncs from scratch for LIMTECH based on Jack's 100% specifications and requirements from product designs, configurations, brand name components used, standard operating features, and controller systems.

Working with distributors and cnc service partners in the industry, LIMTECH started to grow with exceptionally high customers' satisfaction with the affordability, reliability and good support of the products. LIMTECH started with entry level series machines. Over the years LIMTECH has evolved into a prime competitor offering four different levels of cnc series from entry to large format machines with heavy custom configurations to suit both small and large customers with budget and application requirements.
What was it that made Jack believed so much in the ideas and products that became very successful?
It was his passion to help customers to understand the long-term benefits of ownership from his unique products configuration.
Not just another cnc router manufacturer...but one that sincerely cares about the welfare of all customers at a personal level.

Our products are made in Taiwan and China. Our factories design and fabricate the entire manufacturing process in house, with the exception of ISO 9002 brand name components used enabling us to save costs and pass them on to our customers. Every machine is built to standard specifications to ensure products uniformity for reliability and ease of support requirements.
The Centaurus and the Gemini series are more affordable products that are produced in China. Yes many importers in the past have done a number to the reputation of quality from China. Simply because they just picked existing products, paint different colors and put their names on them without without understand the pros/cons of cncs. As a result they are unable to support the sheer volume of equipment failures. We don't blame customers for feeling uneasy purchasing such products from China. But with LIMTECH, our products are designed/manufactured from scratch 100% to our specifications on what we know works following the steps we originally took when building the Orion and Pegasus series. Our customers are highly satisfied with our Centaurus and Gemini series.

The Orion and the Pegasus series are produced in Taiwan. Our factory has been in business for over 30 years manufacturing quality cnc products.
These are heavy iron machines with world class Fanuc controller system.

Reasons why customers choose LIMTECH

First, all of our cnc router products are made from structural steel, welded in one piece for all standard table sizes, heat treated, and stress relieved for rigidity and long-term stability. This will prevent the frame from warping/twisting at customers in different climate regions around the world.

1.

We only use stand alone industrial plc controllers that are non PC-Windows reliant! This means you will NEVER have to worry about having issues with PC-Windows crashing, software updates, or replacement. You will NEVER have to worry about any propriety software communication link between the controller and the PC that is normally required for a PC-based and PC-front end system that over 90% of the cnc routers in the market are equipped with and we provide you with the original cnc system recovery backup files.

2.

We only use world class brand name components such as HSD spindles, Delta servo motors-drivers, Allen-Bradley or Schneider Electric contactors to name a few with the manufacturers' original model and part numbers on all the components. This means that you can always source these components on Google from local and competitive suppliers. You won't have to go through us because nothing on our products is propriety and you're not locked-in to pay dearly for the markups. We believe customers should be able to freely source parts from competitive suppliers and we are not in the parts business. Unlike other manufacturers that provide you with a parts book with privatized part numbers only they can decipher what it means and how much to charge.

3.

We configure all our products with the industry's highest mechanical drive configuration such as servo motor with ball screw or with planetary gearbox & helical rack-pinion systems. This ensure that our products require low-maintenance plus simple service oriented design so you can replace the components or perform simple adjustments yourself without requiring a certified field service engineer be onsite...saving you the time and money in the long-term.
4.

Our technical support is free. Plus you may also contact the components manufacturers directly for parts and support. In essence, you're not 100% reliant on Limtech for support.

5.

Last but not least, our passion to help customers, especially first time cnc buyers to understand our products, expectations, and long-term benefits.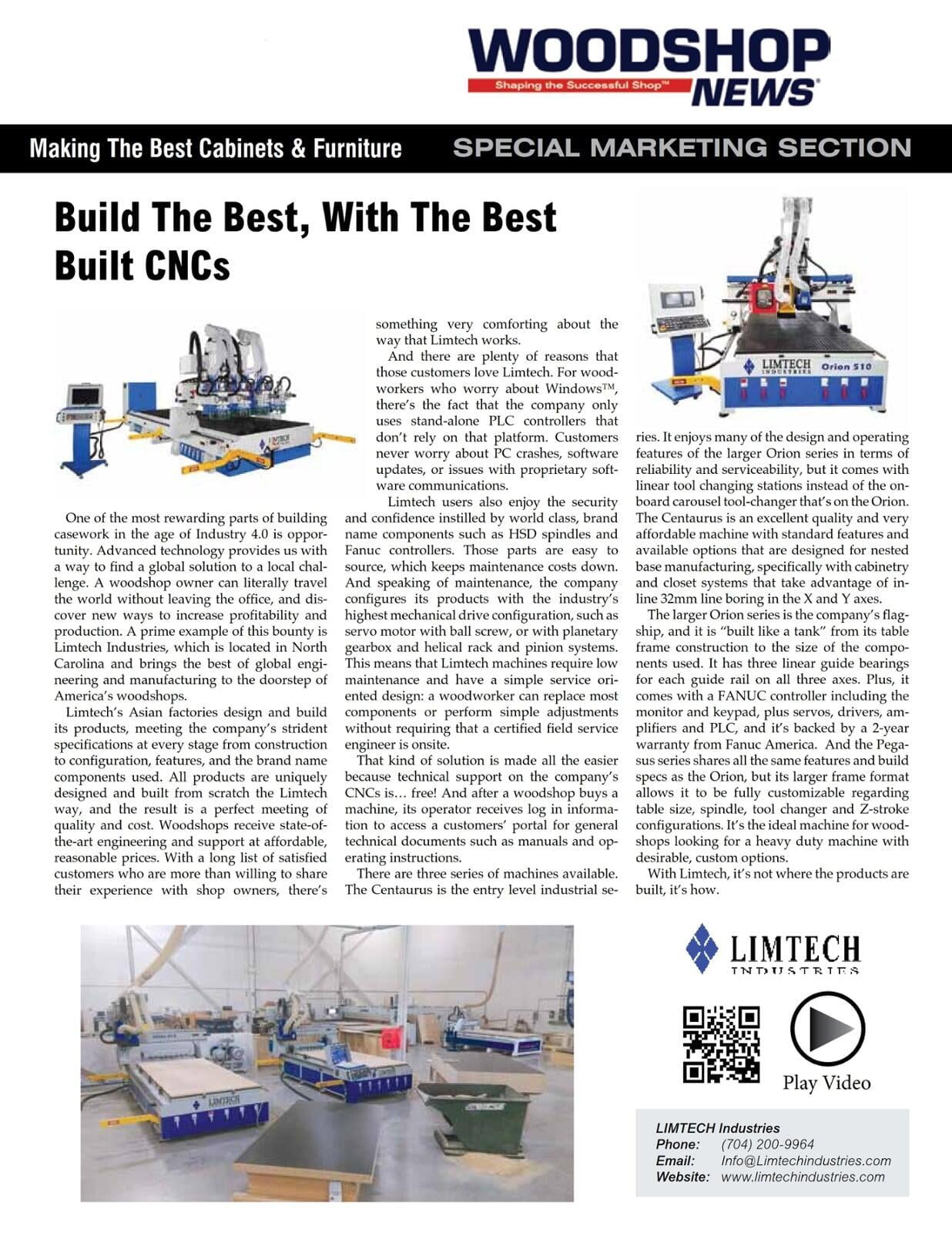 Sales:
Our products are sold thru our Sales partners in the US and Canada.
Please contact us to discuss your application requirements and we would be glad to recommend the right machine for the jobs.
Service & Technical Support:
We offer free, unlimited email/phone support to our customers. More importantly, we are able to help you fix the majority of any issues you may have over the phone over 90% of the time! But don't take our words for it, read our customers' testimonies and if interested, we'll send you a list of customers for you to call directly!

While our in-house Engineers could visit customers for onsite services should we are unable to help customers resolve issues over the phone , we would first try to consult with our experienced local service partners in different regions for faster and most cost effective way should an onsite visit be necessary.
Spare parts:
Since we use only world class brand name components and we leave the original manufacturers' part model and numbers on the components, our customers can easily Google these parts up and find them from competitive local suppliers.

We do stock commonly needed items such as sensors, tool clips, bearings, etc. But the majority of the parts/components with brand names such as Fanuc, Syntec, HSD, Schneider Electric, etc. are also available to answer your questions and supply you the parts directly right here in the U.S.A.